In decades' past fashion trends typically were started and evolved strictly through the method of fashion house to magazine to consumer – and it stayed like this for a very long time. In our current Internet-savvy (even obsessed) world – where Mashable reports that adults in the U.S. spend an average of "11 hours per day with digital media" – things have changed.
Ways Fashion Trends Begin
While traditional fashion houses still have an impact on the way that fashion trends emerge, it's not just those sources that play a role in popular fashion trends anymore. Fashion trends now start and evolve through five key ways: from the runway, from street style, through celebrities, through fashion bloggers, and through the different fashion capitals of the world.
1. Runway Trends
Many of today's current trends are certainly inspired by the looks that designers send down the runways each season during Fashion Week events in New York, Milan and Paris. Fashion lovers wait in anticipation every season to see what has transpired in the minds of the designers that they love over the past months.
Reasons Runways Inspire Trends
Trends start from the runway simply because runway looks are moments created by fashion designers that are purely fantastical! While a great deal of looks sent down the runway go into mass production, Fashion Week shows also feature many pieces that are considered to be couture – something that is made to fit only one person's body. These are the pieces that people wait in anticipation for because they are typically over-the-top designs that look as if they came from a dream. These are the pieces that viewers store in their memories and start modeling their wardrobes after.
Runway-Inspired Trend Examples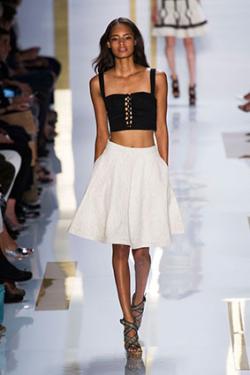 Examples of trends that began with runway shows include:
Proenza Schouler Spring 2014 – At New York Fashion Week's Spring 2014 collections, presented in the Fall of 2013, designer Proenza Schouler sent numerous fringe looks down the runway, providing inspiration for designers to add many different fringe embellishments into their collections. This trend was dominant in the spring of 2014 and will continue to be popular into the fall.
DVF Spring 2014 – Also during New York Fashion Week's Spring 2014 collections, Diane von Furstenberg (DVF) sent many different crop top looks down the runway. This had a trickle effect, leading to crop tops becoming an ultimate fashion trend for Spring 2014.
2. Street Style
The term 'street style' essentially refers to everyday looks that can be seen on the streets. These are the looks that people wear in their everyday life that make an impact on those who pass them by – and become inspired by them! Overall, 'street style' is a newer term in the world of fashion, but it shows how much of an impact that anyone can play in the way that fashion is perceived and trends are set!